FACTORS TO CONSIDER WHEN RESEARCHING A FLEET MANAGEMENT PARTNER.
Transitioning to a fleet management company (FMC) or to a different provider may bring big changes to your organization and significant benefits. The right FMC will free up the day-to-day administrative burdens of managing your fleet, allowing your employees to focus on the core mission of serving customers.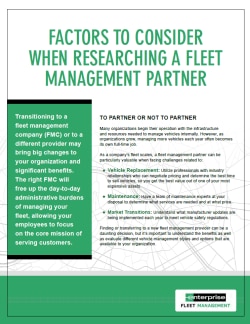 Download Our Whitepaper: Factors to Consider When Researching a Fleet Management Partner
THANK YOU FOR YOUR INTEREST
Want to learn more? Contact Us for a free Fleet consultation.