In This Video…
Category: Maintenance Program
Summary: Last year alone, Enterprise Fleet Management saved its customers approximately $40 USD million in maintenance costs. By using the Maintenance Program, you can ensure that your drivers will receive quality and timely service by leveraging our services and partnerships.
Visit our locations page to search for maintenance partners in your area. 
How to make the most of your maintenance program: 
Call the Enterprise National Service Department (NSD) for help with any warranty repairs, including back-ordered parts or repair escalations.

Always schedule service appointments to avoid downtime. Drivers can schedule appointments from the eFleets Mobile App. 

Use preferred vendors for streamlined service.
Vehicles in your fleet are covered in one or two ways. Coverage may vary by vehicle, so double-check your agreement to see which program applies. 
For Drivers
Call 911 for emergencies involving injuries or when you are in an unsafe situation. 
For roadside assistance, call from the eFleets Mobile App or call 1-877-859-1763 from Canada or 1-800-325-8838 from the U.S. 
For Fleet Managers
If repairs exceed your company's set repair limit, we will notify you via email and telephone. You can approve expenses directly through the email. 
Contact your Account Fleet Coordinator if you have any questions. 
Full Maintenance Program
The Full Maintenance Program includes all scheduled maintenance. Drivers will need to show the service provider the Enterprise Fleet Management Maintenance Card from the eFleets Mobile App or on the back of the Driver Quick Reference Guide) and we will handle the rest. 

 Includes:
Full maintenance fees cover the majority of the vehicle's maintenance and repairs. 
Brakes and tires are optional to the full maintenance program. Your service center will check with the Enterprise National Service Department(NSD) upon arrival to see if they are included in your program. 
Does not include: 
Repairs as a result of neglect, abuse or collisions
Repairs to aftermarket equipment
Glass related repairs
Body damage
Maintenance Management Program
Maintenance fees and expenses will be listed on your monthly invoice. Each vehicle in your fleet has its own Maintenance Card, and each card has a self-authorization threshold assigned to it. If repair work exceeds the threshold, the service provider will request authorization from NSD. 
Minimize Downtime with Well-Maintained Vehicles. 
When your vehicles are well-maintained, they're safer, they perform better, they last longer - and driver downtime is kept to a minimum. That's why we make it easy for you and your drivers to connect with a network of 80,000 service centers across North America. 
Drivers should follow the manufacturer's maintenance schedules listed in the owner's manual. Mobile App and email maintenance reminders can be set up through the eFleets Client Portal Website.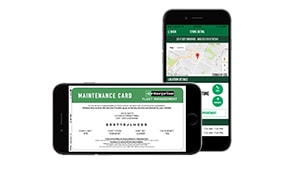 How to Use your Maintenance Card: 
Warranty and recall work should be completed at the dealership. 

For scheduled maintenance and repairs, we recommend using dealers or national chains like Goodyear, Kal Tire or Mr. Lube and More! but there is no out-of-network fee for other service centers. 

To find a preferred vendor near you, use the eFleets Mobile App or go to efleets.ca/locations. The Enterprise National Service Department is also available to locate the facility best suited to handle necessary repairs, call 1-877-859-1763. 
Before service begins, present your Enterprise Maintenance Card to the service provider. The Maintenance Card can be shown from the eFleets Mobile App, printed from the client website or is available on the back of the Driver Quick Reference Guide. 
While preventative maintenance can be completed anytime, more complex repairs should be conducted during call center hours Monday-Friday 6 a.m. to 9 p.m. CT, and Saturday 7 a.m. to 4 p.m. CT in case additional authorization is required. If this is not possible, be sure to use a preferred vendor to ensure authorization can be processed as fast as possible. 
Employees do not pay for services, Enterprise will handle the rest. Please remind your drivers that maintenance cards are vehicle-specific and cannot be transferred.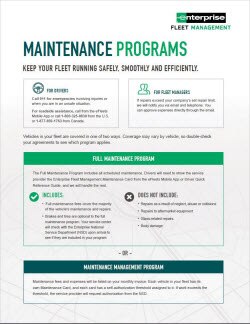 Download A Copy of This Maintenance Program Information.
THANK YOU FOR YOUR INTEREST
Want to learn more? Contact Us for a free Fleet consultation.